Start Your Day with a Good Breakfast
Breakfast Provides Benefits... Make it a Priority!

Higher Test Scores. Research has proven that children who eat breakfast have higher math and reading scores.

Improved Attendance. Studies show that students who eat breakfast are absent and tardy less often.

Fewer Trips to the School Nurse. When students eat breakfast, nurses report fewer hunger related office visits.

Improved Classroom Behavior. Students are better able to pay attention in class when they have eaten. Principals confirm that they see fewer discipline problems when students have eaten breakfast.

Better Learning. Students learn best when they have eaten a good breakfast.

More Time on Learning. When students have eaten, they are better able to concentrate and behave in the classroom. This allows teachers to spend more time on teaching and less time on discipline.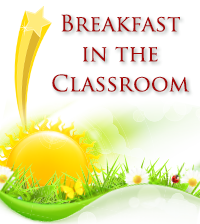 What is Breakfast in the Classroom (BIC)?
Each morning, Child Nutrition staff will prepare food and transport to all elementary classrooms. To ensure optimum temperature and freshness, the food items will be transported in insulated cooler bags. After the school doors open, all elementary students will report to their classroom where breakfast will be available and offered at "no cost" to each elementary student.
What must my child select in order to receive the reimbursable breakfast at "no cost"?
Your child must select a minimum of 3 out of 4 food groups offered with 1/2 cup fruit or fruit juice as one of the choices. Please refer to Breakfast Menu (colored) document for menu examples and further clarification.
What if my child only wants a milk or juice?
To count as a reimbursable breakfast, USDA requires students to choose a minimum of 3 food components from the 4 offered daily. Therefore, your child will have to choose an entree also.
Will my child be able to purchase one item or extra items?
With the BIC, only reimbursable breakfast will be offered at this time.
What if my child does not want to eat breakfast?
The program is offered to all elementary students, but it is the student's choice whether or not to participate.
Will BIC take away from instructional time?
No. BlC takes place in no more than 15 minutes prior to the first tardy bell.